[ezcol_1third]
[/ezcol_1third] [ezcol_1third]
[/ezcol_1third] [ezcol_1third_end]
[/ezcol_1third_end]
[ezcol_1third]
WHAT'S IN THIS ISSUE (Click on the item to go directly to it.)
"Equality Act" update
What's Happening in WI?
Problem Gambling Awareness Month/Proposed Beloit Casino
"Christian" Adoption Agencies capitulates to LGBTQ+ Agenda
WFC In the Media
MARK YOUR CALENDARS
Call our office at 866-849-2536 to schedule a speaker from WFA or WFC for your next event! 
EVENTS 

_____
TONIGHT!
SHEBOYGAN, WI
Pizza Ranch
Thursday, March 4, 2021
6-8 p.m.
♦
BARABOO, WI
Pizza Ranch
Thursday, March 11, 2021
6-8 p.m.
♦
LACROSSE, WI
Black River Beach Community Center
Thursday, March 18, 2021
6-8 p.m.
♦
DELAFIELD, WI
Marty's Pizza
Tuesday, March 23, 2021
6-8 p.m.
VERONA, WI
Pizza Ranch
Tuesday, March 30, 2021
6-8 p.m.
CLICK HERE for more information and to
register for these events.
___________
GOOD FRIDAY
April 2, 2021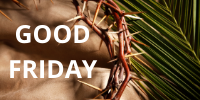 EASTER
Sunday, April 4, 2021

---
LEAD WISCONSIN
Not Your Average Summer Camp!
REGISTRATION NOW OPEN!


When: August 1-6, 2021
Where: Campus of Maranatha Baptist University in Watertown, WI
Who: Teens, ages 13-19
Registration Fee: $400 ($450 after April 30, 2021)
Financial assistance available.
CLICK HERE for more information
A ministry/program of
Wisconsin Family Council
---
Responding to the Transgender Issue:
Parent Resource Guide


This resource is fully researched and documented, defines terms,
explains the issue thoroughly and gives parents practical ways
to address the issue with their children and especially in schools.
A free pdf of the publication is available HERE.
Call our WFC office at 888-378-7395 to obtain a print copy for a suggested donation of $5.
_____________
PARTNER WITH US!
It is the mission of Wisconsin Family Council to advance Judeo-Christian principles and values in Wisconsin by strengthening, preserving, and
promoting marriage, family, life and religious freedom. Our vision is a Wisconsin where God is honored, families thrive, human life is cherished
and religious freedom flourishes.


CLICK here to invest in your family, faith, freedom and future!
_____________
LEAVING A LEGACY
Because of our desire to serve and help families, our ministry is making resources available that can be useful in creating a wise giving plan.
Click HERE for more information on how you can significantly impact the Kingdom while strengthening and building families.
---
On Thursday, February 25, the US House of Representatives passed the so-called "Equality Act," a proposal that adds sexual orientation and gender identity to the federal civil rights law. This bill threatens women and children, religious freedom, medical providers, employers and employees and more. It is not about equality. It's about a dangerous political agenda pushed by liberals seeking to fundamentally change America. In the US Senate, Wisconsin's Tammy Baldwin, who is openly gay and is a leader in the LGBTQ++ caucus, is a co-author of the proposal.
First, we want to extend a THANK YOU to all who sent emails and made phone calls to your legislators. We saw an overwhelming outpouring of action across the nation that exemplifies the opposition felt across the United States regarding this very dangerous bill.
NOW WHAT?
We knew the House was going to pass the bill. Now, however, we move to the senate where it will take 60 votes to pass—and the Democrats have only 50. We will be keeping you informed about the bill as it moves to the senate.  WE ARE GOING TO STAY ON TOP OF THIS ISSUE by asking you to take action again, right now!
Our new Action Center will make it quick and easy for you to contact our US Senators, Ron Johnson (R) and Tammy Baldwin (D) TODAY. CLICK HERE to obtain your legislator's names and contact information, then quickly shoot off an email to your member of Congress with your opinion about the "Equality Act."
That's it! Just as we promised, this Action Alert is quick and to the point! Thank you for weighing in on this critical issue that could put America's children, businesses, families, adoption centers and so much more in danger.. All you need to do is—
Fill out the information and our Action Center will automatically generate an email to your senator. You may send immediately or tailor the message any way you like before you send.
We can't stress the enough the critical nature of your voice on this matter. Please take action today and PASS THIS EMAIL ON TO OTHERS!
Want to know more about what's happening in your community and across the Badger State. Interested in how you can make a difference? CLICK HERE to find out if one of our brand new events "Time to Roll Up Our Sleeves!" is coming to your area. We'd love to see you there!
---
WHAT'S HAPPENING in Wisconsin?

This week an important hearing was held in the Assembly Constitution and Ethics Committee on the following bills:
AB 23
– Prohibiting state and local officials from mandating COVID vaccine
AB 24
– Prohibiting local officials from closing places of worship during COVID
AB 25
– Prohibiting employers from mandating COVID vaccineJulaine Appling, President of Wisconsin Family Action spoke in support of these bills at the hearing.
CLICK HERE for a video of WFA president Julaine Appling as she explains these bills right from the Wisconsin State Capitol.
CLICK HERE to watch the entire Assembly Constitution and Ethics Committee hearing on WisEYE. NOTE: You will need to create an account with WisEye if you don't already have one in order to watch the video. Creating an account is FREE.)
On Wednesday of this week, Julaine participated in a press conference to announce the introduction of a bill that would stop biological males from being able to participate in women's/girls' athletic teams or events. This Protect Women's Sports bill is authored by Rep. Barb Dittrich (R-Oconomowoc, Rep. Janel Brandtjen (R-Menomonee Falls), Rep. Rachael Cabral-Guevara (R-Appleton), Rep. Donna Rozar (R-Marshfield) and Sen. Kathy Bernier (R-Chippewa Falls). The bill is currently circulating for co-sponsors. Watch the press conference HERE. Julaine speaks at 6 minutes into the conference.
Wisconsin Family Council works hard in The Badger State to strengthen, preserve and promote marriage, family, life and religious freedom on your behalf. Click HERE to support our work financially and please continue to pray for us!
---
March is Problem Gambling Awareness Month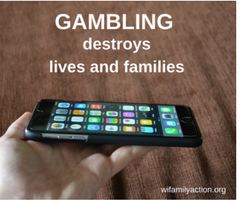 The National Council on Problem Gambling (NCPG) has deemed March as
Problem Gambling Awareness Month
.
DID YOU KNOW?
 There is no Federal agency tasked to address problem gambling – not
SAMHSA
, not
NIH
, not the National Institute of Mental Health, not the National Institute on Drug Abuse nor the National Institute on Alcohol Abuse and Addiction.
FACT:
Someone doesn't have to gamble every day to be a problem gambler. If you know someone whose gambling is causing: psychological, 
financial, emotional, marital, legal 
or other difficulties for themselves and the people around them, then they have a gambling problem. Wisconsin has over 333,000 problem gamblers.
THERE'S HELP
: Click
HERE
to learn more from NCPG on how you can get help and treatment or call the NCPG on 1-800-522-4700.
Or contact Wisconsin Council on Problem Gambling online or call their toll-free hotline at 1-800-GAMBLE-5 or 1-800-426-2535.
Speaking of gambling, did you know that The Ho-Chunk Nation in
Wisconsin
wants to build an off-reservation casino in Beloit; and if they succeed, the impact on the local community could be disastrous? Even worse, your community could be next.
Wisconsin cares about her families and does NOT need another casino. Tell Gov. Evers NO on the proposed Beloit casino today. CLICK here to learn more about what you can do from Wisconsin-based Citizens Against Expanded Gambling.
Click HERE to listen to this week's Wisconsin Family Connection, "Beloit Casino—A Bad Idea." 
---
Earlier this week Bethany Christian Services, an evangelical adoption and foster-care agency, changed its longstanding national child placement policy to include placing children in homes with same-sex couples. Bethany's president, Chris Palusky, told staff members: "We will now offer services with the love and compassion of Jesus to the many types of families who exist in our world today. We're taking an 'all hands on deck' approach where all are welcome." Noteworthy is that Bethany is not under any legal challenge regarding its placement policy. Read more HERE.
Bethany Christian Services, which has offices in Wisconsin, can cloak this change in pious words but that won't change God's Truth. His plan for family is a married dad, male, and mom, female. That is the very best environment for children. Loving Jesus and sharing and showing His love to others never includes compromising Biblical truth. That's a dangerous path. Bethany has sacrificed the well-being of children, in addition to biblical Truth, on the altar of political correctness and adult desires.
---
WEEKLY RADIO COMMENTARY. "WISCONSIN FAMILY CONNECTION" –  Airing this week on over 20 stations statewide. Click HERE to listen to this week's Wisconsin Family Connection, "Beloit Casino—A Bad Idea." Read the transcript of this week's commentary HERE. Subscribe to our podcasts HERE! 
ARCHIVED:
Week of February 22, 2021 – Leaving a Legacy
Week of February 15, 2021 – What's Wrong with Equality?
"WISCONSIN FAMILY MINUTE"
A daily program for Christian radio stations! Click HERE for our daily program; listen or download! Click HERE to subscribe to your Wisconsin Family Minute podcasts! Find your local station HERE. If the Christian radio station you listen to isn't carrying "Wisconsin Family Minute," please encourage them to do so. Contact us at 866-849-2536 or info@wifamilycouncil.org. 
HOME FRONT – VCY AMERICA
WFC President Julaine Appling hosts VCY America's "Home Front" program every Wednesday afternoon (Sept.-May) at 3:15 p.m. CLICK HERE to listen to this week's episode to get up-to-date information on the so-called "Equality Act," on the recent decision by Bethany Christian Services to place children with same-sex couples, as well as on bills popping in the Wisconsin legislature, including a bill that would prevent biological males from competing in women's/girls' athletic teams or events. Click HERE to subscribe to future Home Front podcasts!  
VCY AMERICA TV30 "InFocus"
Julaine Appling, WFC president, is a regular guest (one Monday per month) on VCY America's TV 30 "InFocus" live, call-in program with Jim Schneider which airs on Monday evenings from 7:00-8:00 p.m. (Sept. through May). Click HERE to watch archived episodes. Julaine was a guest on Monday, February 8, 2021. Click HERE to watch this most recent episode. Livestream "InFocus" HERE. Julaine will be on "InFocus" this coming Monday, March 8, 2021.
STAND UP FOR THE TRUTH – Q90FM
Julaine Appling is a regular guest on Q90's "Stand Up for the Truth" program hosted by David Fiorazo (9-10 a.m., M-F).  Julaine joined David on Thursday, January 28, 2021. Click HERE to listen to the archived episode of "Be Strong and Courageous, Stay in the Fight."