MARK YOUR CALENDARS
Call our office at 866-849-2536 to schedule a speaker from WFA or WFC for your next event!
NEW EVENT ALERT!!


TONIGHT! Still some room left!
Thursday, AUGUST 20, 2020
Green Bay, WI (Ashwaubenon Pizza Ranch)
Tuesday, AUGUST 25, 2020
Appleton, WI  (Pizza Ranch)
Thursday, AUGUST 27, 2020
Wausau, WI (CitySquare Center)
Tuesday, SEPTEMBER 1, 2020
Verona, WI (Pizza Ranch)
Thursday, SEPTEMBER 10, 2020
Oconomowoc, WI (Schwefel's)
CLICK HERE to register now.
Watch for more information in
next week's newsletter!
___________
34th Annual ECFA Bike & Hike
Adoption/Pregnancy Support Fundraiser
Saturday, September 12, 2020
Waukesha, WI


LEARN MORE HERE
___________
TUESDAY, NOVEMBER 3, 2020
GENERAL ELECTION DAY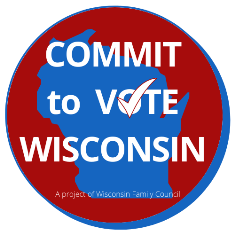 Pledge to committing your voice, your choice, your values
by ballot in the upcoming elections!
Click HERE to sign the pledge today.
______________
Responding to the Transgender Issue:
Parent Resource Guide


This resource is fully researched and documented, defines terms,
explains the issue thoroughly and gives parents practical ways
to address the issue with their children and especially in schools.
A free pdf of the publication is available HERE.
Call our WFC office at 888-378-7395 to obtain a print copy for a suggested donation of $5.
_____________
PARTNER WITH US!
It is the mission of Wisconsin Family Action to advance Judeo-Christian principles and values in Wisconsin by strengthening, preserving, and
promoting marriage, family, life and religious freedom. Our vision is a Wisconsin where God is honored, families thrive, human life is cherished
and religious freedom flourishes.


CLICK here to invest in your family, faith, freedom and future!
_____________
LEAVING A LEGACY
Because of our desire to serve and help families, our ministry is making resources available that can be useful in creating a wise giving plan.
Click HERE for more information on how you can significantly impact the Kingdom while strengthening and building families.
---
Wisconsin's Cultural Indicators 2019


Click HERE to read more
Wisconsin's Cultural Indicators, 2019 Edition
is now available online HERE or
by contacting our office
at 608-268-5074.
_____________
Get To Know Your Elected Officials
Wisconsin's 2019-2020
Legislative Directory
Now available for download
Click
Here
to find out who your state and federal legislators are, along with their contact information.
Establish a relationship; let them know you are informed, interested, and involved. PRAY for your elected officials!  (I Tim. 2:1-4)
It's okay if you missed it…
---
Cultural Changes Call For Biblical Guidance
---
IN THE MEDIA
WEEKLY RADIO COMMENTARY. "WISCONSIN FAMILY CONNECTION" –  Airing this week on over 20 stations statewide. Listen to this week's Wisconsin Family Connection, "To IRS: Abortion Is Not Health Care" HERE. Read the transcript of this week's commentary HERE. Subscribe to our podcasts HERE! 
ARCHIVED:
Week of August 10, 2020 – "Knowing Our History" (originally aired July 22, 2019) 
Week of August 3, 2020 – "Commit to Action Because All Elections Have Consequences"
"WISCONSIN FAMILY MINUTE"
A daily program for Christian radio stations! Click HERE for our daily program; listen or download! Click HERE to subscribe to your Wisconsin Family Minute podcasts! Find your local station HERE. If the Christian radio station you listen to isn't carrying "Wisconsin Family Minute," please encourage them to do so. Contact us at 866-849-2536 or info@wifamilycouncil.org. 
HOME FRONT – VCY AMERICA
WFC President Julaine Appling hosts VCY America's "Home Front" program every Wednesday afternoon (Sept.-May) at 3:15 p.m. Home Front is currently on a break for the season. We hope you will tune in when we return on Wednesday, September 9! Click HERE to listen to archived episodes. Click HERE to subscribe to future Home Front podcasts!
VCY AMERICA TV30 "InFocus"
Julaine Appling, WFC president, is a regular guest (one Monday per month) on VCY America's TV 30 "InFocus" live, call-in program with Jim Schneider which airs on Monday evenings from 7:00-8:00 p.m. (Sept. through May). Livestream InFocus HERE. Click HERE to watch archived episodes until September 2020 when we resume our regular programming schedule. The new InFocus season kicks off on Monday, September 14. Julaine will be a guest for this first show of the new season.
STAND UP FOR THE TRUTH – Q90 FM
Julaine Appling is a regular guest on Q90's "Stand Up for the Truth" program (9-10 a.m., M-F). CLICK HERE to listen to Julaine on last month's (aired July 14) "Stand Up for the Truth" program on Q90fm, hosted by David Fiorazo. Julaine will be a guest again on Tuesday, August 25, 2020. CLICK HERE to listen LIVE!